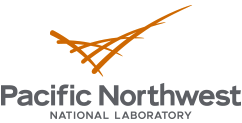 Pacific Northwest National Laboratory

Principal Biogeochemist - Sequim, WA

in

SEQUIM

,

Washington
Organization and Job ID
Job ID: 308401
Directorate: Energy & Environment
Division: Coastal Sciences
Group: Coastal Research
Job Description
PNNL's Marine Sciences Laboratory is developing robust marine research programs in Sustainable Environmental Systems focused on renewable ocean energy, climate change impacts in the coastal ocean, ecological restoration, ecotoxicology, marine biotechnology, and contaminant fate and effects in the coastal ocean.
This position will identify and steward growth areas in coastal/marine biogeochemistry, lead proposals, and manage and carry out research projects/programs strategic to the energy, environment, and security focus of the Marine Sciences Laboratory (MSL). The incumbent will be responsible for growth in MSL programs focused on research and technology development in marine biogeochemistry. This could include ultra-trace analytical chemistry, investigations into minor and trace element biogeochemical cycling, extraction of minerals from seawater, sediment biogeochemistry, marine radiochemistry or another relevant area of growth.
The principal biogeochemist will work with an interdisciplinary team of scientists and engineers to manage and grow a biogeochemistry program, building on the facilities and expertise that already exists at the MSL. Responsibilities will include:
Overall Technical Leadership and Vision
Identifies future needs
Defines objectives
Builds opportunities and uses existing expertise
Overall growth of the biogeochemistry group at MSL
Identify emerging opportunities
Coordinate and participate in the pursuit of opportunities
Lead and engage in writing of white papers and proposals
Ensure proposed solutions include broad cross-section of PNNL technical capabilities to meet client technical needs
The staff member will be accountable for scope, schedule and budget activities to deliver high technical quality of research project work products; and directing teams of peers and subordinates.
The staff member will manage a portfolio of mid to large scale projects.
Delivery and Communication
Ensure communication with current and potential clients are coordinated with sector management and consistent with the sector strategy
Ensure products communicate "why the work is important and the sponsor cares" at a layman's level and within the context of successful site operations
Ensure successes are thoroughly communicated up and down the chain with credit to appropriate scientists
Leading and mentoring technical staff.
This position is based in Sequim, Washington
Minimum Qualifications
BS with 9+ years' experience, or MS/MA with 7+ years' experience, or PhD with 5+ years' experience.

Established national leader in biogeochemistry.

Exceptional research, as well as the ability to work on several tasks concurrently.

Excellent interpersonal skills and effective communication.

Good track record of peer review publications and participation in events as an invited speaker.

Good network across academic and industrial partners.

Proven ability to set realistic expectations and deliver work on time and in budget.

Strong sense of integrity and proven leadership.

Excellent oral and written skills.
Preferred Qualifications
MS or PhD degree with at least 8 years of experience in chemical oceanography or a closely related field.

Knowledge and experience of minor and trace analysis applied to marine systems

Experience managing diverse teams of people.

Ability to manage sensitive business situations and influence positive outcomes.

Experience with development of field- and process-oriented biogeochemical research programs
Equal Employment Opportunity
Battelle Memorial Institute (BMI) at Pacific Northwest National Laboratory (PNNL) is an Affirmative Action/Equal Opportunity Employer and supports diversity in the workplace. All employment decisions are made without regard to race, color, religion, sex, national origin, age, disability, veteran status, marital or family status, sexual orientation, gender identity, or genetic information. All BMI staff must be able to demonstrate the legal right to work in the United States. BMI is an E-Verify employer. Learn more at jobs.pnnl.gov.
Directorate: Energy & Environment
Job Category: Scientists/Scientific Support
Group: Coastal Research
Opening Date: 2018-09-28
Closing Date: 2019-04-15